Totem - Aqua

Embodying the rich Native history of this land and it's people, renowned Alaskan artist Michael Webber designed the Totem trim exclusively for Copper River Fleece. Born of a rich Alutiiq and Tlingit ancestry, Michael lives in Cordova, Alaska where his family heritage reaches back to the first footsteps in this region. Emblazoned with the Eagle, Raven, Killer Whale, and Beaver Clans' crests, the Totem trim tells the story of traditional Tlingit influences stretching from Southeast Alaska to the Copper River. As Mike explains, "The Eagle and Raven are positioned in the center, representing their status as the largest and most powerful clans. Talon, wing, and human head forms surround the Eagle, in accordance with traditional Tlingit design. Known as the Wise One, the Raven is believed to have created the earth, sun, moon, animals, and all other life forms. Tying the sea to the land and its people, the Killer Whale meshes fins, tail, and human form. The Beaver Clan was known for its powerful chiefs and shamans, whose strength is evident in the oversized incisors, tail, and beaver head." In this vibrant trim, Mike brilliantly weaves ancestral totems of Tlingit culture, handed down through generations.
Garment Details:
Hooded style jacket with a gently contoured side-cut to fit and flatter a women's

shape

YKK

®

zippers

Back hemline 1" longer than front

Adjustable hidden drawcord at hem

2 zippered outside hand pockets

2 hidden inside pockets (not zippered)

Denali Jacket style is designed to comfortably allow for layering underneath.
Fabric Details:
Softshell fabric blocks 98% of wind

Provides versatile weather-resistant protection

Exceptional breathability & warmth.

Laminated membrane creates an H2O-resistant barrier, while still allowing moisture vapor to escape

DWR (water-repellant surface treatment) applied to outer-face sheds rain & snow

Abrasion-resistant woven polyester outer-face

Moisture-wicking microfleece interior

Machine wash, Hang to dry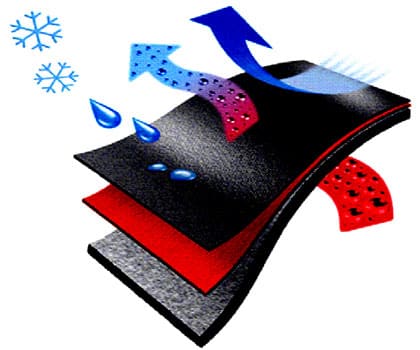 ---